Introducing the Add Vision EV Chargepoint - the ultimate solution for your commercial electric vehicle charging needs! Our chargepoint stands out in the marketplace and is at the forefront of EV charging technology.
Picture this: a sleek and stylish charging solution that not only fulfills your EV charging needs, but also enhances your brand visibility and generates additional revenue. That's exactly what an Add Vision chargepoint can do for your business!
By combining EV charging fees with valuable advertising revenues, you can help you maximise your return on investment. With fast AC charging in various charge power options, as well as a premium, freestanding advertising totems - limitless potential for additional revenue.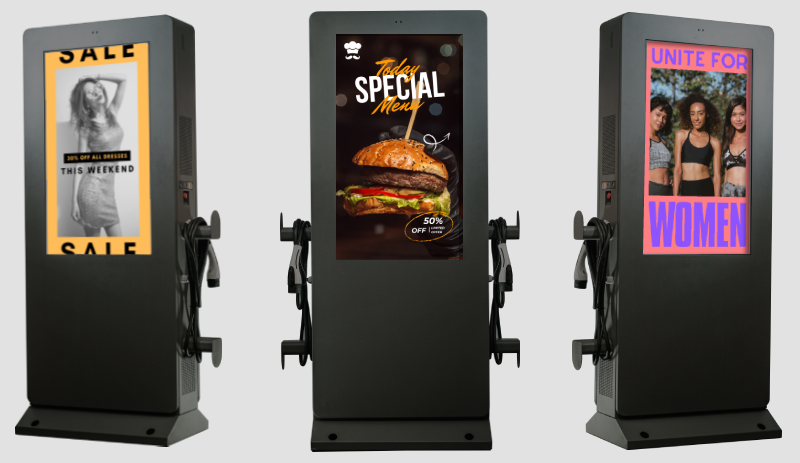 This chargepoint is a showstopper - it captivates and engages thousands of potential customers with its ability to showcase your brand to commuters, shoppers, and other visitors. The RFID card-reader controls access to the charger and monitors usage, while the optional Nayax contactless payment module allows app-free charging for users outside of your organisation.
More than just a charging solution - it's a smart investment for your business. Our OCPP compliant chargepoints offer secure and real-time communications with our unique Add Vision Cloud management platform via a wired network or 4G data connection. Our complete EV charging network management facility allows real-time monitoring of your entire network, including current and peak usage, revenues of individual chargepoint locations, and your entire network.
Safety is a top priority for us, which is why the chargers have built-in safety functions that can shut down the charger if it detects any issues. Additionally, our chargers are equipped with a failsafe emergency stop button that can be manually operated in the event of a failure.
So why settle for an ordinary charging solution when you can have the extraordinary EV Chargepoint? Advertise, monetise, and energise! Contact us today to learn more about our finance packages and how we can help you take advantage of this cutting-edge technology.
What's Included?
.
Hardware & Installation
We provide the hardware to suit your specific needs. We will design and install your new Digital Signage setup at no extra cost.
Software Integration
We will set up your account on our cloud based Digital Signage Software. Manage your Digital Signage quickly and easily from anywhere in the world.
Content Design
Content included! We provide all content required for your new screens. Work with our design team to get the perfect content to represent your brand.
Training & Support
We will provide full training and on-going support. Learn how to use your Digital Signage Software or let us take care of everything for you!